McD F/A-18F Super Hornet "RAAF Rhino" in 1/32 scale.
Let's start with a favourite of mine…   my wife Karen..  and my 1/32 Trumpeter F/A18F RAAF Super Hornet.  This model debuted with second place at ModelExpo 2014 to Eric Galliers' excellent BAE Hawk in the large scale aircraft category and has gone on to win or place in more competitions since including the Bayonet MC EOY, NAM MC, SAPMA, IPMS EOY, IPMS Monthly, Moorabbin ANAM MC.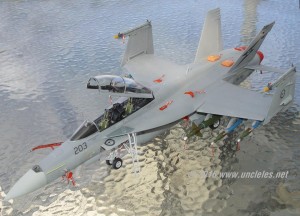 Here's a few more 1/32 Hornets from my collection.  If you have any questions about these please drop me a line via the contact form.
..and there's more here: