Some time ago I built a model of an aircraft I had a personal connection with.  Here's the view from my instrument section window at RAAF WIlliams Laverton back in the day: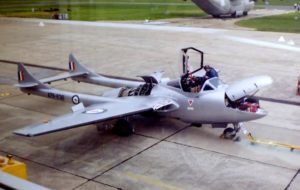 Here's a pic of me and my boys with 636 in the early '90s.
I had a very small part to play in the aircraft's maintenance and I became quite fond of it – so much so that I set about to build a 1/32 model of it, and tried very hard to make it as accurate as possible.
The kit purchased to make this was the venerable Matchbox Sea Venom. It had some base parts I could use ( thought I could use ! ) to enable easier construction of what was going to be a major scrtachbuilding effort.

After dividing up the parts for what could be used and what couldn't it appeared I had the makings of a single seat Venom on my hands. To this end I found there was a company in the UK that offered a 1/32 single seat Vampire model in a vacform so I bought one in the hope that there would be enough parts to make up the shortfall…  alas – no undercarriage, poorly shaped wings ( both being different sizes and crudely mastered) all sent in a flimsy box with no internal packaging thus it arrived in Australia damaged.  Thankfully the canopy was untouched and it was really the only useful part as it stood.  So I paid over $90 for a cople of plastic sheets and a canopy..  hmm… – that company ( message me if you want to know who it was)won't be getting any more of my dosh.
So I set about building all that was needed to build two deHavillands.
I wanted to make the Venom closed up and the Vampire opened – to benefit from the many photos I had taken of the insides during my time as a techo.
There's more of these build photos on my facebook album
https://www.facebook.com/media/set/?set=a.1292902187495725.1073741853.943719565747324&type=1&l=647c5bc9ce
Eventually I had two 1/32 models, one of an RNZAF Venom and the other, one of my favourite planes in glorious manscale !
More of the story is in detail here
http://forum.largescaleplanes.com/index.php?showtopic=53345
Suffice to say they've been out for the odd competition and both have managed to fare OK…
I don't offer this as a kit as it was purely a one-off – but if you are going down the road of building either as a scratchbuild or conversion drop me a line in case there's anything I can assist with.