Here's something I did a while ago and am considering making just a few more examples before retiring the moulds.
The CACATAC ! 
The CAC P175 1/72 Multimedia kit.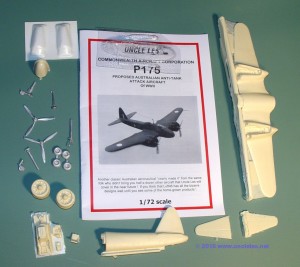 I produced this kit in 2011 and it enjoyed a run on ebay and via other sites with all units selling. The following photos give a brief idea of how it goes together.
The CAC P175 in real life.
The aircraft itself was a paper project created at a time when the need for an anti tank aircraft was envisaged for use against the Japanese in the Pacific and potentially mainland Australia.  As the quality and volume of Japanese tanks didn't necessitate it and the supply of light to medium attack aircraft was present in the form of Beaufighters, Beauforts and Hudsons the design didn't leave the drawing board.
It's use of the Bofors 40mm cannon mounted centrally would have made it an excellent tank killer and its construction based on existing airframes, predominantly the Boomerang and Woomera, meant that production would have been swift.
If you'd like to see more about the kit you can download the instruction pamphlet here
If you'd like to obtain one please use the contact form to enquire about availability.  The cost will be A$50 plus postage and if there's no stock the lead time will be a couple of weeks.