A year or so ago I built a twin seater F-5 using two kits that came from the estate of the late Eric Sujecki. This saw competition here and interstate bringing home a couple of trophies, but it was built as an homage to Eric using Mexican markings I found in the kit and handpainting the Tiger meet tail markings as none existed for the aircraft I chose to model.  Here it is here:  It can also be seen on SAPMA's EXPO page and other forums.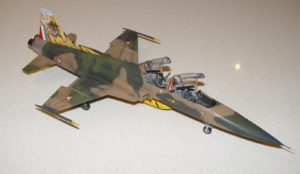 Last week I decided to build another of Eric's F-5s – this time I decided to do a fictitious F-5E pretty much straight out of the box with minimal extra detailing… but as luck would have it half the cockpit was missing so I had to scratch build the canopy armatures.  So it started out on a SUnday morning and I'd intended to have it done by the evening – but that was not to be !!
One trick I did use on this model later in the week was to use the heat method to bulge the tyres.
Firstly I constructed the undercarriage and assembled together a razorsaw, some matches and a candle.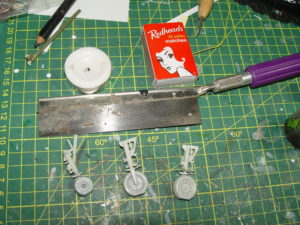 I then applied heat to the razorsaw using it as a sort of hotplate and one by one thrust the undercarriage into the flat surface at 90 degrees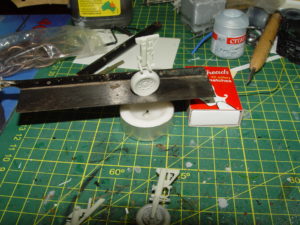 After cleaning up they'll appear to have weight on them !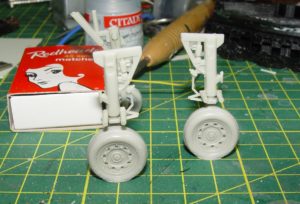 Then over the course of the week I built the est of the kit and painted it accordingly.
You can see in the first pic here where I inked the details using a Kuratake brush and scrubbed it with detergent on a stipple brush on the right side.  Quick and dirty detailing !  Then came masking and picking out the cockpit.
I chose to make the aircraft have dayglo campaign markings ( assuming the adversary also operated F=5s) armed it with some Sidewinders from an F/A-18 kit and used home printed markings aside from the usual stencils.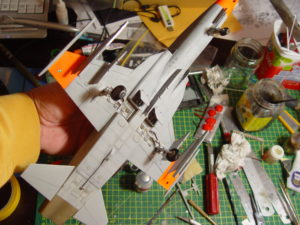 I then took it outside and took some pics !
After  I had posted some of these images on Facebook it was pointed out to me that I had missed the seeker covers on the missiles and there were no chocks…   So I set about within the hour to rectify this !
I enlisted the help of a plastic drinking straw, a Chupa Chup stick, some fusewire, a little plastic rod and after a little yellow paint – we have chocks on the undercarriage and FOD covers on the missiles !
Paints used were week old Humbrol 127 from Metro Hobbies closing down sale ( city store),  Testors Dayglo orange that I got from Hearns around 1990 ( yep – it's that old and works just fine ) and various other enamel & acrylic blacks and whites.  The cockpit was dolled up using tinfoil for straps and cushions and the RBF tages are either painted paper or Eduard etched metal.  FOD coves on the intakes and exhausts are kneadatite.
So there you go – another F-5.    I have one more in the box to do….    an F-20 can't be that hard ?
As usual – any questions – just send me a message via the link provided !