Uncle Les has been very busy of late casting up and finishing off various vehicles for stock and for commissioned orders. It's been a full-on Auscam fest and I've found that going to Bunnings with the appropriate paint chip is a great way to get bulk amounts of various camouflage colours negating the need to take out shares in Humbrol tinlets !  I've also had a bash at using some AK Interactive colours of late courtesy of Wolfstore, but more on that in a moment.
Here's some Hawkeis in 28mm with some interesting custom mods. The drone launcher was requested to be made as a concept vehicle for a customer and the turreted version also as a  "whatif"  I find it amusing hat even before the vehicle is properly in service there's already apocalyptic versions being imagined !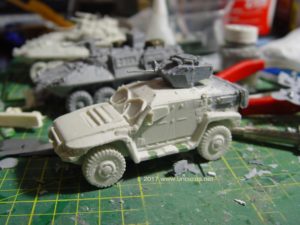 I've found that there's a growing popularity in the inclusion of counter IED aerials – so I guess I'll have to start adding them. These were fashioned from sprue with mounts I made using 3D renders of my own devising.
..and here they are painted and finished.
Here's the batch with some that I was going to offer on this update but there'll already gone !  If you want customised 28mm ASLAVs,M113AS4s or Bushmasters then contact me for a quote. Prices range from $65 to $95 depending on level of detail and finish etc.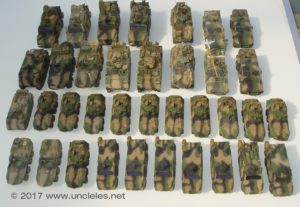 Here's some more "action shots" I took before they got put into boxes and sent off.
Now my good friend Tony at Wolfstore issued me with some kits to review for him and here they are:  1/87 Trident ASLAV-25, LAV, Perentie & Bushmaster.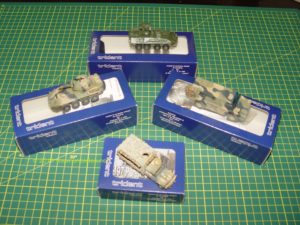 These are intricate little affairs very similar to Roco or Roskopf with the exception of some being made from polyurethane resin. They are definitely for advanced modellers but scrub up pretty well. I would use the term "over-engineered" in the construction and break down of parts.
I finished them in AK Interactive acrylics after a base coat of enamel tan ( that Bunnings paint I mentioned above) and the results can be seen here:
There were a couple of minor issues, the Bushmaster was LHD and the ASLAV's running gear was infinitesimal and very fragile but they look the goods.  I would recommend Trident as static models but not as wargaming kit as they don't take well to handling.  The first batch of AK Inteactive I used was just simply the wrong shade with the black being more blue than anything – but these were satisfactory as washes. Later batches proved to be a closer match for the OD, tan and black as seen on modern Australian military vehicles.
Later in the month I finished yet another order of 28mm Alouettes for Eureka Miniatures.
and of course the Uncle Les arms factory keeps on churning out 20mm vehicles for the lads at NWA and their various wants and needs..   Marders, Jaguars, Jeeps, Trucks, Dictators..
Here's a clue as to what's coming soon…