It's been 18 months since my escape from corporate life and this was the first full year where I relied upon modelling as a means of financial support for my family – and it's not been easy. Having said that, finances aside, it's been a very enjoyable year on the modelling front with many projects underway and some culminating in finished products that I've been quite happy with.
The most recent that I'm working on right at this moment is the 1/56 Australian light PMV.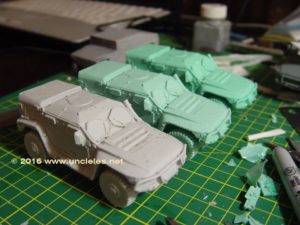 I'll have finished examples of these posted very soon and intend to have them for sale at CANCON which will be the subject of my update.
There were many projects undertaken and many miniatures designed, fabricated and finished.
I've had success with another project, the 1/32 Winjeel, and I"ve finished two examples, one being sold on commission. I have a good friend building one at the moment  and he's pointed out some improvements I'll commit to tweaking the moulds and releasing some examples commercially.
more here:  http://uncleles.net/2016/10/07/132-winjeel/
As you can see from the outdoor photos here I had a lot of fun using my customised outdoor tarmac board posed at Avalon and other locations to produce what I hope look like "the real thing".  Check my previous posts such as http://uncleles.net/2016/08/14/another-photographic-diversion-thunderbolts-panzers/ to see other images.
Aircraft such as the Pika, the CA31 and a number of Hornets all did well in competitive events across three states.
I also did a bit of armour modelling and produced a number of 20mm & 28mm vehicles for use with the wargaming community. Attendance at CANCON, Little Wars and various club events kept the ideas coming and the AFVS moving !
I also dabbled in some other subjects for personal interest:
In the coming year I'll be adding more vehicles in 20mm & 28mm to my range and have another mystery RAAF related 1/32 subject about to be fashioned into plastic from 3D renderings.
I invite you ( if you've got this far) to have a good look back through my posts and if you see stuff you like, let me know ! I build stuff to sell but don't hold stock as such – most of what I make is either by commission or simply won't stick around long and I prefer to build a subject, make a few, then move on.
I will be creating a page for disposals at some stage as I have a large number of kits from a deceased estate that I'll need to move. Checkout my ebay link to see what I currently have on offer !
Anyhow, it's been an interesting ride, thanks for coming along and I hope to hear from you, the folk who read this,in the new year.
Leslie Applebee  31Dec2016