I received an order for a fairly large number of 28mm modern ADF AFVs a couple of weeks ago and I've been pretty much tied up since then fashioning up multiples of suitably sized M1A1 Abrams, M113AS4s, M88s and of course a number of ASLAV variants.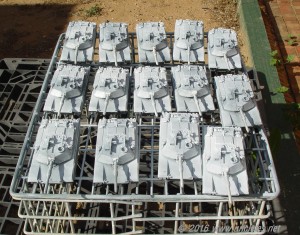 The good news for those attending Little Wars is that I should have some surplus examples for sale and depending on how many I build I might put some on ebay.
The M88 Hercules & the ASLAV-25 have only just been scratchbuilt and I'll show some production photos in my next entry.
The ASLAV proved to be as much of a challenge as the Bushmaster to scratch build which will be following up as soon as this order is completed.  The 3D rendering / printing process was used to form the basic hull with details added using plasticard & kneadatite. The wheels, larger than those on a USMC LAV, were scratchbuilt using hubs from the spares box and laminations of plasticard and kneadatite for the tread.  I made one wheel, cast 8 copies and there you have it !
Can anyone spot the odd Team Yankee supporter in the above photos ????
Meanwhile, as May approaches I will release a couple more DHA Gliders on ebay and then close that project down in favour of new things for Little Wars and I really have to make something special for ModelExpo…   but time will tell, and it's against me at the moment !
***UPDATE 23Jun16**  not many ASLAVs left from last batch – here's one for sale the week of this update  http://www.ebay.com.au/itm/322164206495?ssPageName=STRK:MESELX:IT&_trksid=p3984.m1558.l2649