**UPDATE 22Jun16**  The Bushmasters have already had their run on ebay back in March when I originally wrote this. They are available now only as individual special orders or at conventions in Australia that I attend. I will offer more at a later date directly through the webpage.  For those making enquiries outside of Australia I have to remind you I have no control over the cost of postage.
———————————————————————————————————————
The first examples of the new 1/72 ( 20mm) Bushmaster PMV from Uncle Les have made their way out of the mould and onto the workbench.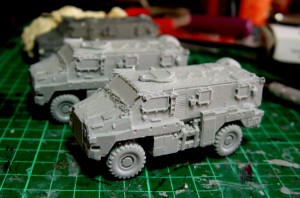 This project started life as a rendered 3D file to create the master from ABS plastic ( in much the same way as the M113AS4 before it ) and in the last week has been tidied up and duplicated in polyurethane resin. These photos here show the resin unit as they will be sold – I have yet to master up a weapons set which will become available at a later date.
I've just returned from the IPMS Wings & Tracks competition ( 5 gongs thanks for asking ! ) and debuted the Bushmaster selling out all stock I had ( and a few M113AS4s I took with me ). I will take some to Eureka Miniatures in the coming weeks to accompany the other items I have there on the shelf.
Meanwhile – here's what happened today !