**UPDATE 21Jun16**   I've updated this entry yet again to say that the M113AS4 in 1/72 is not available at this time and MAY become available when I redo the moulds.  Thanks to all who have enquired or indeed purchased but the run is over for now.  I have many other projects that are on the go and I must admit I seriously underestimated the popularity of this model.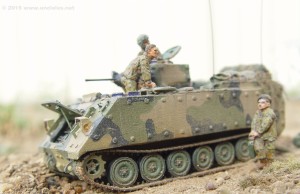 Here's one I built using one of my resin wargaming units to appear in the competition at IPMS Wings & Tracks on Sunday the 20th of March 2016. This one features a complete interior – lots of hollowing out and tricky casting techniques there !!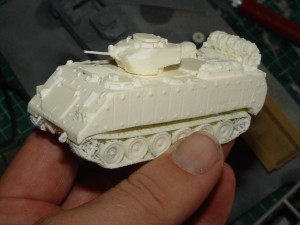 Anyhow, the solid single cast version is now available via the contact form, Just send me a message outlining what you'd like and I'll provide a quote on total price, what the lead time will be along with Paypal details etc.  As far as numbers are concerned I'll do what I can but once they're gone they won't be back for a while. I'm putting a few on eBay and there will be some delivered to Eureka Miniatures later this week if anyone wants a closer look.  I intend to have painted and unpainted versions at Little Wars in May.
Here's some more pics showing what can be achieved from this model.