I would call it a successful foray for the Uncle Les arms manufacturing division as most of the vehicles I took with me have found new homes.
The event was huge and more can be seen here.
The Uncle Les team arrived late Thursday night for an early set up on Friday as a subset of Eureka Miniatures and no sooner had the vehicles hit the stand the faithful were ready to fund next week's resin purchase by steadily buying what was on offer.  Trade was brisk on Saturday, tapered off a bit on the Sunday and witnessed a quick burst once everyone realised the stand was being disassembled and packed away on the Monday.  I managed a brief look around the halls on a number of occasions, making purchases of my own, but for the most part I and my helpers were behind the table answering questions and administering sales.  I won't bog this down with too much detail suffice to say I found the event quite busy and quite enjoyable. The sheer number of people and the diversity seen in tabletop gaming enthusiasts is gratifying.
I've been given a lot of ideas and encourage all I spoke to contact me via the contact form above and let me know what you'd like to see built in the coming year.
I might construct a little poll after I get home to find out more of what is wanted and where I can fill the gap.  Having said that, many of you have already contacted me with ideas and I'll make mention of that in the forthcoming weeks.
The most popular item to be sold for me was the M113AS4 in 1/56 (28mm) with all stock on hand sold along with the "one off" M1 Abrams that I made especially for the show.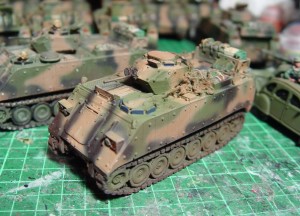 I have only a few more back in Melbourne as reserve stock and I'll put these up on eBay in the next week. This will see the end of this version and I will modify the next batch according to the suggestions received over the course of this event and the previous Little Wars.
A big thanks to all those who participated on the weekend and especially to those who bought my product and/or offered me kind words of appreciation for my craft.
On a final note for this entry – could Steve, the guy who bought the BA64s and contacted me suggesting I consider the IS3, B4 & ML20 in 28mm please contact me again – the email address you entered returns an error 550 "mailbox unavailable" message and as such has prevented me from responding in person.  I'm putting this here in the hope you read it and rest assured I've already started looking into the IS3. ( I'm visiting at my daughter's house in Nowra with no access to model making equipment BUT – I can still render digitally on my laptop !!!!  )