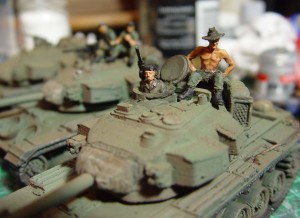 Due to a number of requests here's some rapidly created new items in Uncle Les's range of 1/56 wargaming vehicles intended for release at CANCON 2016.
Here's the first ones out of the mould for the T-55 & Aussie Centurion.
M10 Wolverines & Achilles were requested at the last Little Wars so here's the first batch.
A cold war truck was requested so I've whipped up a rudimentary Russian ZIL130.
I'm told there's going to be a Stalingrad game so I've made some German & Russian armoured cars. Seen here is the SdKfz 222 in its raw form as a master and then the final result in resin.
There's other vehicles as well and I'll post another update with a proper look at all the inventory I'm taking with me.  Here's some of the vehicles today being prepared.
and finally, some finished items.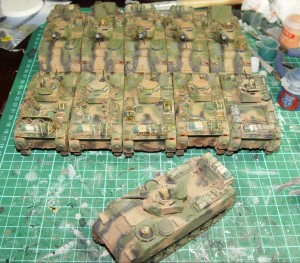 and if you're into intergalactic travel I'm doing a few 28mm stargates with accompanying DHD for sale. I'll have to ensure the correct DHD goes with its corresponding gate – wouldn't want any incorrect activations….