**UPDATE 21Jun16**   I've updated this entry yet again to say that the M113AS4 in 1/72 & 1/56 is not available at this time and MAY become available when I redo the moulds.  Thanks to all who have enquired or indeed purchased but the run is over for now.  I have many other projects that are on the go and I must admit I seriously underestimated the popularity of this model.
Due to a request from an avid gamer I embarked upon the production of a 1/56 scale M113AS4 ( 28mm wargaming scale) to satisfy the wants of those gamers fielding a scale modern Australian contingent.
Investigation into plans began prior to this as I had intended on producing a 1/72 version when I first climbed over one of these back in 2013 and as such I was well on the way to having all necessary dimensional information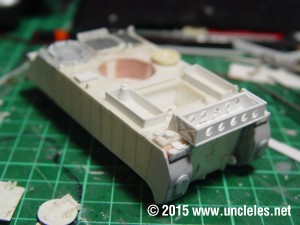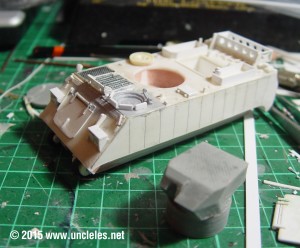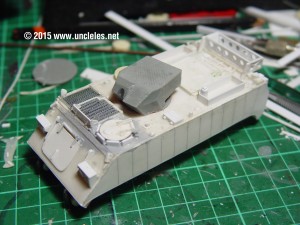 A master for the hull was made using old school plasticard methods with the major sections cut on a Brother Scan-n-cut device. The turret began life as a 3D rendering printed in ABS and was then treated to some plasticard.
The running gear was scratch built by fashioning a set of wheels and then casting multiples, built into a single unit and then cast by Eureka Miniatures in white metal.  (Some versions of the kit employ the resin versions)
The part count can be seen above, basic hull & turret in polyurethane resin, hatches in white metal, running gear in white metal or resin depending on release and an aluminium barrel.
I sell these as either kits or as finished items with prices ranging from A$50 to $85 depending on quantity, composition and venue.  Use the contact form for more information or check the ebay link to see if I have any for sale at present.
Days before I made this entry I was in attendance at Little Wars Canberra as a trader and all M113s and related items were sold in the first half hour.  I'll make sure I have more on hand for Cancon 2016.
More information for Little Wars events an be found here.
Views from a customer can be found here.
Here's some reference shots of the real deal for those who asked.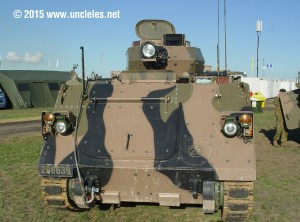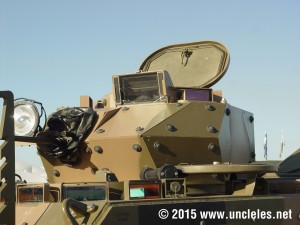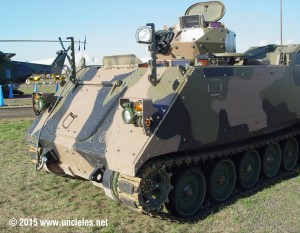 Now, onto a 20mm version and to catch up on all those requests for other Aussie armour subjects in both 20mm & 28mm.  Also – if anyone's interested in a Marder IA5 in 28mm drop me a line – I'm considering the viability of a line of cold war & modern middle eastern subjects. In fact, if you have any requests let me know !