10 September 2017
I have been busy in the background getting the canopy mould made and tested which is now done. Coaming is the next concern there.  I'm not happy with the forward fuselage and will be doing it yet again to get the sidewalls to my satisfaction.  The next update will include photos so you'll be able to see how it's going.  I have managed to get some up close and personal time with some real airframes and this is just fuelling my desire to keep changing things as I find more errors..  even though they're miniscule !  On another note my Winjeel is now further off as I also got some close up time with an airworthy Winjeel and found I've made a major error with the vertical depth of the aerofoil dimension at the root so that's put things back a bit there ( and why Mr G has put his on hold until I get him some modified parts ).
These are the usual trials and tribulations of a scale modeller !
——————————————————————————————————————-
14 July 2017
I have need to visit some real Macchis to get some data so the cockpit details will be put on hold until I get what I need.  I have just purchased some new thermoforming plastic to do the canopy and will need to create a new master for this to suit the vacforming machine I have.  I also have to finish the updated masters for the fuselage sections as I have decided to make it in three basic parts. – forward from rear of cockpit , mid section from rear of cockpit to fuselage break line just forward of the dorsal strake/vert. stab. leading edge, and aft of that including empennage.  Rest assured we're getting there but it's a lot of work making up parts for a kit !
10 Jun 2017
I'll formalise the structure of this page after I get a few more masters cast – meanwile, the first "prototype" had an outing to ModelExpo last weekend and managed a commended in large scale jets and the prestigious best Australian Military Aircraft.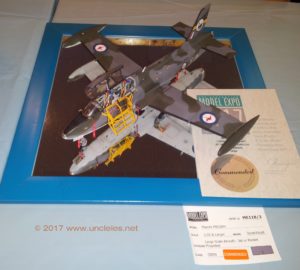 —————————————————————————————————————
There's an initial post here which will explain its scale model development and I will add more data as it becomes available and use this as the forum for information dissemination as it happens
Here's some of the initial imagery of the model and later I'll include some reference data and tidy the page up..
This page will eventually evolve into an ordering facility with price etc,
but for now it's effectively…